Because I waited too long after seeing most of these movies to write a review, I really can't remember many details about them (or I just don't have much to say about them in the first place). Therefore, I'm gonna get them all out of the way all together as... 
Manic Movie Madness Spectacular Bam Wow!
The Skinny:
 After so much hype, I was expecting something mind-blowing. Instead, it's just relatively weird, confusing, sometimes pretty, but mostly strange.
The Score: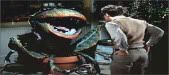 Feed Me, Seymour!
The Title:
Kamikaze Girls
. 
The Skinny:
 Think what would happen if you mixed Amelie with Ghost World (with a tone closer to the former). It's humorous, though not laugh-out-loud funny. There are some good visuals, though nothing mind-blowing. The movie is more character-driven than plot-driven. It lost my attention around the 2/3s mark, but got it back soon thereafter. Overall, a pretty good movie.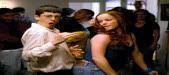 I Am McLovin!
The Skinny:
 It's Guy Ritchie... what do you expect? It's fast-paced and sometimes difficult to follow. Though sometimes it felt like Burn After Reading with the pointlessness of it all. Or maybe I just wasn't grabbing the plot very well, which is likely (I had some difficulties following Ritchie's
Snatch
, as well).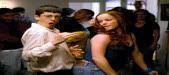 I Am McLovin!
The Skinny:
 Incredibly dated, but still a really good movie. The acting between Winona Ryder and Christian Slater (especially Slater) is fantastic, though Slater does drift into Jack Nicholson territory from time to time. Though the movie has one of the coolest (albeit a bit unrealistic) endings ever. My only major gripe is that the editing of the film felt choppy and rushed at times, and half the time I expected something to be a dream sequence, but it wasn't (which, to me, isn't a good thing). But still a really fun movie. 
A Keanu 'Whoa'
The Skinny:
 I've been wanting to see this film for a few years now, though now I'm not sure why. The idea is a good one, but it just doesn't pull itself off in my opinion. There are a couple fun scenes, but the others are negated by the fact that the characters are supposed to be these smart profilers, yet act like some horror movie idiots. Not to mention the ending makes
no
sense whatsoever. They try to pull a double-twist that totally backfires because it's completely illogical in its execution.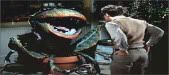 Feed Me, Seymour!
The Title:
The Onion Movie
. 
The Skinny:
 Some funny moments, some 'okay then...' moments. The movie is basically long string of skits, about half of which involve running gags throughout. And then that half culminates together for a pretty fun ending. Otherwise, it's just a pretty decent comedy movie (if you can really call it a movie).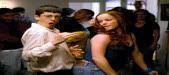 I Am McLovin!
The Title:
Midnight Movie
. 
The Skinny:
 Besides the fact that this movie had a useless appearance by the actress who played Daphne on Heroes, the movie was pretty much a waste of time. Most horror movies, even ones with 'unkillable killers' (Jason, Freddy), have rules to follow where the good guys can still win or get an upper hand. This one keeps making rules, changing them, and refusing to make up its mind on how the killer works. And in the end, they really do make an 'unkillable killer', which is pretty lame when it comes to horror movies. Oh, and of course, you don't really care about any of the characters... and it's likely that the one you want to die because of annoyances is the one who actually lives.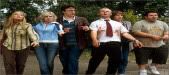 The Zed Word
The Skinny:
 In a movie with monsters, dragons, and a naked Angelina Jolie, you wouldn't expect to be so
bored
. The first half of the movie was drug out unnecessarily. And the random use of Old English was just weird. I like Crispin Glover, but I hated this movie's portrayal of Grendel. Totally unmenacing, and even marginally annoying. Grendel's mother was better, though, thankfully. And the dragon bit was really cool, though the way Beowulf takes it down doesn't make
any
sense (Spoiler: If he couldn't reach the heart with the extended reach of a sword, how the hell does he reach it with his bare hand?). Brendan Gleeson's Wiglaf was the best performance in the film, I thought. And his animation seemed to be the best. While on the subject, sometimes the animation was really good, and sometimes it just looked like crap. Oh, and "I. Am. BEOWULF." is equally as stupid in the context of the movie as it was in the trailers.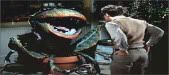 Feed Me, Seymour!
The Skinny:
 Not Nic Cage's best film, but certainly not his worst. It had some good suspenseful moments and some decent CGI (some better than others, though). The 3 minute long shot is pretty cool, too. Though the son's need of a hearing aide was pointless, as he could still hear and speak just as well without it as he did with it. I'm not sure if I liked the ending, though. I went into the movie expecting a supernatural thriller, and only in the final act do you realize it's an apocalypse film... which totally changes the mood of the whole thing. It just kinda leaves you with a "well... that was pointless" feeling at the end. Still, the majority of it is entertaining enough.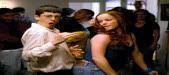 I Am McLovin!
The Skinny:
 Mildly entertaining, though never really laugh-out-loud funny. Kristen Bell is hot, though, even as a brunette. Some fun Star Wars parallels. Decent acting all around. Though the film relies a bit too much on dramatic irony (where the audience knows something the characters don't), specifically that
Episode 1
is bad.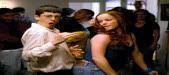 I Am McLovin!