I really have no good excuse. I've just felt really lazy (and/or tired) recently and haven't felt like blogging too much. That's why I skipped
DVDs Or Death!
this week... but I figure I'll make it up with a good round of
Pre-Emptive Strike Thursday!
-----------------
Title:
W
.
Pre-Thoughts:
I'm not sure. On the one hand, it's a movie about George W. Bush. On the other hand, it's a movie about George W. Bush. The trailers don't show too much, but you can't judge a movie like that. The last time I saw a movie that had a trailer that showed absolutely nothing, it turned out great (
Burn After Reading
). So, again... dunno.
Pre-Score: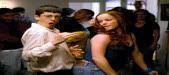 I Am McLovin!
Title:
Max Payne
.
Pre-Thoughts:
I really want to see this movie. I've only read one review for it thus far, and it was a negative one, but it was also a review from somebody on imdb (strike one) that is a hardcore fan of the video game (strike two). I think the movie looks visually stunning and really entertaining. And as I've never played the video game, I won't have that point of reference to complain from. And as I've been saying, this looks to be like for Mark Wahlberg what
The Matrix
was for Keanu. And I really hope it is.
Pre-Score:
A Keanu 'Whoa'
Title:
Sex Drive
.
Pre-Thoughts:
Again, mixed reviews for this thus far. It's either incredibly boring and stupid, or incredibly hilarious and awesome. I've heard it's been compared to the likes of
Road Trip
and
EuroTrip
, though not even remotely as dirty (in fact, quite clean), but I still love me some
EuroTrip
, so I might check it out. Plus, it has a co-starring role with the actor that plays Dale on
Greek
, so that'd be fun. The most I've seen from him elsewhere is magical-appearing party-goer in
Superbad
. We'll see.
Pre-Score: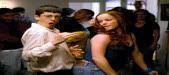 I Am McLovin!
Title:
The Secret Life of Bees
.
Pre-Thoughts:
What can I say? I've seen one preview for this, and it looked pretty good... even though Dakota Fanning looked even more anorexic and creepy than usual. But it's not coming out here, so I won't be seeing it anyway. Oh well.
Pre-Score:
A Keanu 'Whoa'