A couple interesting prospects, but nothing that has me all-out excited. It's time for
Pre-Emptive Strike Thursday
!
--------------
Title:
Race to Witch Mountain
.
Pre-Thoughts:
I know of the original, probably even seen parts of it, but I don't think I've seen the whole thing. Regardless, I enjoy Dwayne "The Rock" Johnson, and this movie actually looks kinda fun... though the trailer does pretty much give away the ending (on them getting to the mountain) for those who haven't seen the original. So who knows? I might be there.
Pre-Score: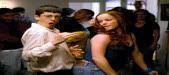 I Am McLovin!


Title:
The Last House on the Left
.
Pre-Thoughts:
Another classic remake of which I have not seen the original (I know, shame on me being a horror fan and all). But at least it's not a remake of another brainless slasher flick. It's close, but at least this one has a story that kinda turns it all around on its head. Horror remakes almost always disappoint (
Dawn of the Dead
being one of the few exceptions in recent years). But I might check it out eventually, if simply because I like the premise.
Pre-Score: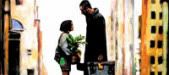 Stop Saying Okay! Okay.


Title:
Miss March
.
Pre-Thoughts:
Is it just me, or does anybody else feel like they've seen this movie before? It's like another
Road Trip
/
EuroTrip
, mixed in with
The House Bunny
, a bit of
Just Friends
, and a sprinkle of any number of the crappy "National Lampoon" movies to come out in recent years. I really have no strong feelings one way or the other about this movie... just that it looks tired and so-done-before.
Pre-Score: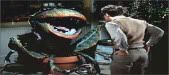 Feed Me, Seymour!
Title:
Sunshine Cleaning
.
Pre-Thoughts:
Never heard of it before this point. It has a decent cast, though--Amy Adams, Emily Blunt, Alan Arkin, and Steve Zahn. It also has a bit of an interesting premise. Too bad that it's gotten zero publicity and is probably just under limited release.
Pre-Score:
Can't score it.
Title:
Brothers at War
.
Pre-Thoughts:
Never heard of it, either. An unknown cast. Another movie involving the Iraq War. And probably a limited release. In other words, I really don't care.
Pre-Score:
Can't score it.