This is my personal opinion, but I think the haters are hating too much, but the lovers might also be loving a bit too much, as well. The sequel picks up two years after the last, and Sam (Shia LaBeouf) is going off to college. His girlfriend Mikaela (Megan Fox) doesn't like being so far away, but Sam will find ways to keep in touch. And Sam's personal guardian transformer, Bumblebee, just feels left out. But after Sam finds a piece of the Allspark, he starts seeing a bunch of weird symbols that link to this... machine thingy... that there was this civil war over forever ago between the Autobot and Decepticon ancients. So The Fallen wants to use it, but can't because there's a Prime on the Earth? And... okay, I'm just gonna stop there.
I really have no f**king idea what the plot of this movie is. Hell, the characters even beg for a plot at one point in the movie (courtesy of John Turturro). Literally. He yells at one of the transformers to just lay out the plot already because nothing makes sense. And even afterwards, it still doesn't make sense. I don't know if it was just because I missed it or it was explained poorly, but I didn't even know what the big machine thing was supposed to do until the end of the film. And even after it's explained, I was still left with "um... okay... because that makes sense" thoughts. There are quite a few non-sensical things (or things with just poor reasonings behind them) in this movie. And it takes at least half the movie (and it's a
long
movie) before anything remotely plot-related occurs.
Much like the first film, entire scenes or even characters could have been removed completely. The "twins" were pretty unnecessary (and oftentimes annoying), and Leo, when not reminding me of a younger
Kevin Corrigan
, was just there for comic relief. However, despite his overall pointlessness, he was still an entertaining character, so he really didn't bother me at all.
Another place this movie "falls" is in character development. Outside Shia and Megan's characters, everybody else (including returning characters), are more like set pieces. Bumblebee and Optimus Prime are really the only returning Autobots that actually
do
anything for any portion of the movie (or are built-up, rather). The others are just kinda
there
. And the new ones hardly get enough screen time to matter (even those that do--the twins--you wish you had less of). Every character outside Shia and Megan's are so flat they'd almost be pointless if their story 'archs' (if you can call them that) weren't necessary to the 'plot' (if you can call it that).
The acting is decent, though... except from Megan Fox, who is just there for the T&A. And what lovely T&A it is (there's even a slow-mo
Baywatch
-esque running sequence).
I know this sounds like hating, but despite all of that negativity, I still enjoyed myself. Why? Because the action and special effects were good. The haters hate the movie because of the aforementioned things, of course. But what they also don't realize is that they're going in to a
Transformers
movie... as directed by Michael Bay. It's basically
Robots & Explosions: The Movie
. But I knew that going in. So knowing that, and still seeing it, I wasn't really disappointed. I didn't go in expecting Oscar-worthy plots and characters. I saw giant robots fighting each other and blowing crap up. That's what I went to see, and the movie delivered. Case closed.
Still, is it a good movie? Not really. But is it entertaining (even on a braindead level)? Heck yeah. So taking all things into consideration, including the outstanding visual effects (though even those had a few hiccups), I think I can give it a pretty fair score as a non-biased, knows-what-he's-getting-into source.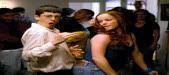 I Am McLovin!