Another exciting weekend is upon us! It's time for
Pre-Emptive Strike Thursday
!
------------------
Title:
Miracle at St. Anna
.
Pre-Thoughts:
I think this looks like an amazing film by a great director. I've also heard the book is amazing, as well, though I haven't read it. Even though I'm not a big war-film fanatic, I'd love to check it out, definitely.
Pre-Score:
A Keanu 'Whoa'
Title:
Choke
.
Pre-Thoughts:
Where the hell has all the advertisement for this movie been? The next big film based on a book by the guy who wrote
Fight Club
? I've seen a couple different T.V. spots for this, and none of them tell anything about the film whatsoever. This movie is going to bomb completely. I'd like to see it, though, just for the sake of having seen it... but seriously... what the heck?
Pre-Score: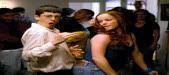 I Am McLovin!
Title:
Eagle Eye
.
Pre-Thoughts:
I think this will be the big one of the weekend. I've already got plans to see it with a friend, so I know there'll be a review up for this either late Friday or early Saturday, so keep an eye out. I've been excited for this movie for a very long time. To me, it just has one of the most awesome trailers I've ever seen. Can't wait for tomorrow night.
Pre-Score:
A Keanu 'Whoa'
Title:
Nights in Rodanthe
.
Pre-Thoughts:
A movie for old people and/or people who like sappy romances with old people. I'd say this'd draw the same crowd as, say,
The Notebook
, except for the fact that the leads are... well... not Ryan Gosling. And are old.
Pre-Score: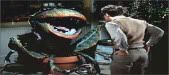 Feed Me, Seymour!
Title:
The Lucky Ones
.
Pre-Thoughts:
Ironic in title... I hadn't even heard of this film up until a few days ago. Never seen a trailer for it, never heard anything about it. Therefore, much like
The Women
, I can't really give it a pre-score.
Pre-Score:
N/A.