This is for the
LAMB Movie of the Month
, but I couldn't find a better way to review this movie than for a short review, so here we are.
------------------
Premise:
After getting dumped by his girlfriend and drunkenly sending hate mail to his German pen pal, who he mistakenly thinks is a man trying to get with him, a guy travels to Europe with his friends in finding his pen pal and telling her that he loves her before it's too late.
Starring:
Scott Mechlowitz, Jacob Pitts, Michelle Trachtenburg.
My Reaction:
This is seriously one of my favorite comedies. No matter how many times I see it, it never gets old. It has a very memorable and original song, "Scotty Doesn't Know," which really is as catchy as it's meant to be. There's also some great and memorable cameo appearances, including David Hasselhoff and Matt Damon. But it's the Matt Damon cameo that's the most memorable, because he's made up so out-of-character that it's hilarious. In fact, I didn't even realize it was him until toward the end of his scene. I can't say enough about this movie, though because I love it so much, it makes it hard to do a full-out review for it, which is why I took to this format. From Robot-Mime street fighting to "You made out with your sister!," this movie is great.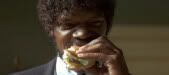 Royale With Cheese