Premise:
After his girlfriend dumps him, Nick goes out with his mostly gay punk rock band for a show. There, he meets Norah, who, in an attempt to prove to Nick's ex that she does indeed have a boyfriend, unwittingly asks Nick to be her boyfriend for five minutes (not realizing who he is at the time). This all ends up leading to a night in New York chasing after Norah's drunken best friend who got away from Nick's friends that were supposed to take care of her, as well as trying to find the secret and ever-elusive band "Where's Fluffy?".
Starring:
Michael Cera, Kat Dennings, Ari Graynor, Alexis Dziena, Aaron Yoo, Rafi Gavron, Jonathan Wright, and Jay Baruchel.
My Reaction:
How can a movie with such a great cast of mostly underrated actors go wrong? I'm still trying to figure that out, actually. Like I said, the cast is brilliant, including a couple fun cameos from John Cho and Kevin Corrigan, so the acting chops are there. The charisma and chemistry are abound. I'm in love with Kat Dennings, though Alexis Dziena reminded me way too much of Miley Cyrus in this movie for my liking. And Rafi Gavron reminded me of a buffer Anton Yelchin, and without the annoying voice. And I always love Aaron Yoo. There's nothing really wrong with the story either (and it has some great metaphors). The music is
okay
, but nothing to come home screaming about... though that might not be a good thing in a movie that strongly relies on music, as shown via its own title. There just wasn't anything about the movie that blew my shirt up, so to speak. There were some good moment, some disgusting moments, and even some great moments (I particularly thought the last 15 or so minutes of the movie was the best, starting at the recording studio up through to the end). Otherwise, it was just... alright. Kat Denning's puppet show version of the film on the DVD extras, however... freakin' awesome.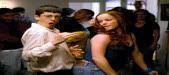 I Am McLovin!

(P.S. I'm starting to wonder if Judd Apatow is like the American

Harry Potter

. It's like every comedy/dramedy these days has at least 2-3 actors that have been in at least one of his films).