So I finally saw this movie. Granted, it was an edited version, but I still got the effect.
----------
Premise:
Narcotics officer Alonzo takes a rookie, Jake, out on the job for a day of drugs, violence, and the inner-workings of crooked cops.
Starring:
Denzel Washington and Ethan Hawke.
My Reaction:
Holy crap.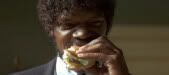 Royale With Cheese